Sean Sinclair
---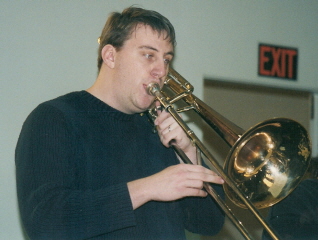 Contact
Position: bass
Occupation:
Lawyer for Duncan & Craig LLP
Trombone:
Bach Bass Trombone
Groups:
* University of Saskatchewan Wind Orchestra
* University of Saskatchewan Jazz Ensemble
* Saskatoon Brass Band
* Grant McEwan Wednesday Night Outreach Band
* Ritchie Trombone Choir

Teachers:
Larry Pearen (Yorkton, SK), Ray Placeatka (Melville, SK), Dawn McLean (Saskatoon, SK), Don Schmidt (Saskatoon, SK)
Influences:
Dean McNeill (director of University of Saskatchewan Jazz Ensemble), Marvin Eckroth (former director of the University of Saskatchewan Wind Orchestra), Terry Heckman (director of Saskatoon Brass Brand), Ken Read (director of Ritchie Trombone Choir), Ian Sinclair (brother, fine jazz pianist at University of North Texas), J.J. Johnson, Slide Hampton, Fred Wesley, Miles Davis
Bio:
I was extremely fortunate to grow up and start playing trombone in the very strong band program in Yorkton, SK under the tutelage of Larry Pearen. My trombone studies began in 1991, in Grade 5, playing with Columbia Elementary. While I was living in Yorkton, I had the privilege of studying trombone privately with Ray Placiatka for approximately two years who lived in nearby Melville, SK. I performed at a number of high profile events while playing in the Yorkton Band Program, such as the Grey Cup Parade and the 1997 Rose Bowl Parade. I also got to meet and play with guest performers such as Tommy Banks and Gordon Foote.

From Yorkton, I went on to the University of Saskatchewan where I studied Commerce and Law (and eventually obtained my Law degree). While attending the University of Saskatchewan, I played primarily with two groups, the Wind Orchestra (directed by Marvin Eckroth and Glen Gillis) and the Jazz Ensemble (directed by Dean McNeill). I also studied privately for one year with Dawn McLean and for one year with Don Schmidt. In my final year of studies, I put on a 45 minute recital at the Department of Music. While playing with the University groups, I had the privilege of playing with a number of guest artists including Slide Hampton, Mike Vax (New York), Brad Turner (Vancouver), Pat LaBarbera (Toronto), Jim Brenan (Alberta), Craig Brenan (Edmonton) and Dan Haerle (Dallas).

After graduation at the University of Saskatchean, I began playing with the Saskatoon Brass Band and the Prairie Brass Quintet. I also subbed in a number of groups including the Metro Jazz Ensemble and the Saskatoon Symphony.

In September 2004, I relocated to Edmonton where my then girlfriend, now wife was residing. While in Edmonton, I have played with the Grant McEwan Wednesday Night Outreach Band and the Ritchie Trombone Choir.