Lynn Hewitt
---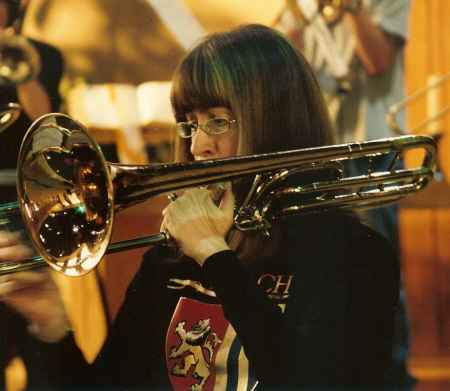 Position: 2nd
Occupation:
Health system research consultant
Trombone:
King 2B
Groups:
* C-Jam Big Band
* Festival City Winds
* MacEwan Wednesday Night Outreach Band
* Ritchie Trombone Choir
Teachers:
Trombone: Gordon Stewart, Ken Read
Choral groups: Royal Stanton, J. R. Bodley
Recorder: Ria Kurstjens-van Berne
Influences:
There were alway trombone players around when I was growing up. My grandfather was a professional trombone player with the U. S. Army Band, PT Barnum Circus Band, San Francisco Orpheum Theatre and the Carmel Bach Festival. His four sons also played trombone. My father was a professional trombone player though he didn't earn his living as a musician. I started trombone in the 4th grade, coached by my father, and played in school concerts and marching bands through high school. When I went to university, I gave up the trombone and sang in choirs insrtead. I didn't own or even touch a trombone for ages.
Some time ago, my husband asked my father to find a good used trombone for me as a surprise gift. That trombone (King 2B) stayed in its case for years. Then, after hearing the brass play at a Bach festival, I was inspired to take up the trombone again. I sounded truly awful and decided to take lessons. Starting up was a challenge, but lessons with Ken Read, a wonderful teacher, have made a huge difference. Playing is a lot of fun now. I never had a chance to play in my father's trombone choir so I am delighted to be able to play with the Ritchie Trombone Choir.
Other influences: Living in Europe for several years and attending many wonderful early and baroque music concerts in Holland, England and Germany. Then there's the trombone playing of Tommy Dorsey and Joe Alessi.
Bio: