Duane Riske
---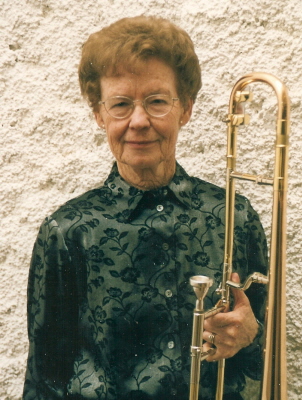 Position: 2nd
Occupation:
Ret. teacher 1-12 English/French/music
"One of the last broad-ranging generalists"
Trombone:
2004 Michael Rath R3 tenor (845R) with red brass bell
1976 Olds Bass 24G with Olds 21 mouthpiece
1925 King tenor, 87
Groups:
Past:
Lacombe Community Band
University of Alberta Symphony Orchestra
One Accord Gospel Band
Camrose Churchmice Players Theater Musicals
LeDuc Black Gold Big Band
Present:
Camrose and District Community Band
Black Gold Concert Band
Edmonton Moravian Church Trombone Ensemble
Ritchie Trombone Choir
Summer Swing Band (Camrose)
Teachers:
Bob Stroup, Chris Taylor, Ken Read (one lesson from each)
Influences:
Richard Eaton, John McPherson, Ken Read, Murray Smith, Tom Spila, Christian Lindberg, Douglas Yeo
Bio: My grandfather, Hugo Gottschlich, pioneer blacksmith and musician from Munich, Germany, started a band in the Lacombe area in 1903. He took his band to Edmonton in 1905 to help the Edmonton band play for the great celebration when Alberta became a province. An accomplished clarinetist, he taught reeds, brass, strings, and piano. My father carried on the family's passion for music, playing several different instruments in local band for 65 years.
My mother's "egg money" ensured that my brothers and I all had music lessons. I studied piano to grade 8, and in high school and university played trombone for enjoyment and to meet guys in the brass section.
My musical journey ceased for the next 30 years of teaching and raising a family. When the nest emptied, I polished and oiled my old brass King trombone, had the piano tuned, and began to play again. I now enjoy playing in several ensembles and occasionally accompany my husband (baritone, tenor, and sometimes bass saxophone). I especially enjoy playing my new Rath tenor trombone with the talented, congenial, and inspiring musicians in the Ritchie Trombone Choir.