David Galloway
---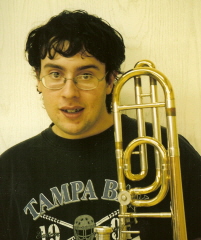 Position: 1st
Occupation:
Right now, I'm a 3rd year music student at the U of A
Trombone:
B&S tenor trombone, my mouthpiece is a Schilke in case you care
Groups:
U of A Symphonic Wind Ensemble
University Symphony Orchestra
Ritchie Trombone Choir
Teachers:
Ken Read, John McPherson
Influences:
Of course there are all the band directors and teachers I've ever had, as well
as the musicians I've played with. I really like listening to Joseph Alessi and Christian Lindberg because they're awesome.
Bio:
Well, I first learned the trombone in grade 7 for band, then I finally decided to take private lessons in grade 12 and I joined Ritchie Trombone Choir that year. Ken Read was my teacher for a year and John McPherson has been my teacher ever since.